There are moments which define work for photographers and artists and give them the clarity of vision to pursue a singular course. For Scott Thode, that moment came over a decade ago when he began photographing a story about Bailey House, the first residence for people with AIDS in Greenwich Village.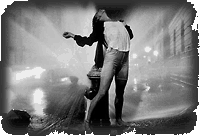 Steven Brown, one of the residents with whom he had become close, lay in bed surrounded by friends and careworkers. As he died, Bernie Healey, a minister who worked at Bailey House, instructed Scott to place his hand on Steven's forehead. "That," Bernie said as Scott felt an intense heat radiating, "is the spirit leaving the body."

Looking for the Light is the result of over twelve years of photojournalism and countless hours of love, pain, joy, suffering and human experience on the part of the individuals whose stories you will become acquainted with as you explore this site.



Download QuickTime to see and hear Looking for the Light


The stories cover roughly a fifteen-year time period and reflect the changing attitudes, fears and knowledge about the AIDS crisis. The series starts with Bailey House, at a time when there was much fear and uncertainty about the disease, and ends with Ray of Hope, a story about lives being prolonged by Protease Inhibitors. In between are Venus Rising, an extraordinary tale of friendship between two unlikely friends, The Spirit Within, a series of portraits and writings about how people have been transformed spiritually by their encounter with HIV and Adoption, a wrenching tale of the hard and painful choices that this disease can force.

You will also find related materials and ancilliary information about a variety of AIDS-related topics. We invite you to respond to each of these stories and the issues they raise through the extensive Forum section and to also visit the Wall of Names to reflect and comment on the lives of the people whose stories you encounter here.

An excerpted version of this project with a more extensive timeline and historical information about the AIDS epidemic appears simultaneously on The New York Times on the Web.

While it would be impossible to adequately represent every segment of the population effected by AIDS, we hope that through Looking for the Light we have at least in part helped put a human face on the statistics behind the disease.