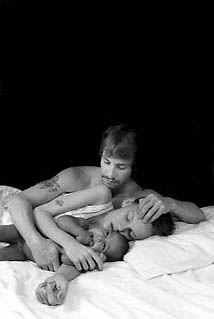 What we want people to think about is to be careful with what they do because this isn't just an infection, it's your life. Things get worse as you go along with this disease, but, if you contract it let me say to you, it is not the end. It just makes everything a little more precious.

I have a family that is all HIV positive. My wife and I used I.V. drugs and quit two and a half years before our child , Amy, was born. She is twenty-one months old and is infected. We found our two months after her birth. What a pain it is to look at this beautiful little girl and know you could lose her at any time.

- Tim Kopisischke, Dora Norlund and Amy
Hollywood, California

Dora died on February 9, 1993 at 9:25 A.M.

Amy died on June 14, 1994 at 6:45 P.M.