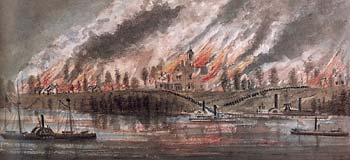 n 1994, a dealer specializing in Southern works approached the Virginia Historical Society with four tattered scrapbooks containing some five hundred vivid Civil War watercolor drawings and maps by Union Soldier Private Knox Sneden. Upon examining the work the Society's curators realized that they held in their hands a remarkable collection, and one of enormous significance. An equally remarkable series of events led to the discovery of a diary/memoir which accompanied the artwork. Together these constitute one of the most important Civil War documents ever produced. This collection has now been published by The Free Press, a division of Simon and Schuster.

Eye of the Storm takes you on an unforgettable journey through the Civil War. Through this online intepretation, you can experience the life of a Civil War soldier through Sneden's journal entries. Audio accounts of Sneden's narrative with commentary by the Director of the Virginia Historical Society, Charles F. Bryan, Jr. can be heard by visiting the movies section of this site. Also included here are forums through which visitors can discuss the work and Civil War history.

After viewing the presentation, spend some time viewing photographs of Civil War Battlefields by Maryland-based photographer Jan Faul and also see some of the people and places from Sneden's accounts through the Civil War Photographs of Mathew Brady. These photographs are presented with Masters of Photography.

Eye of the Storm will also be on display at the New York Historical Society after November 1.

When you are finished viewing Eye of the Storm, please take a moment to register with Journal E. The confidential information you give will aid us in bringing you more compelling online presentations.



CREDITS
Narration:
Michael Johnson
Production:
Adam Stoltman, Alan Dorow
Special Thanks:
Michele Harris