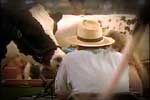 Jean Raymann: Her name is Argus Bovopeep Erica, and so her name, in short is Erica.

Alex Chadwick: Erica?.

Alex Chadwick: Toward the end of summer, everything is grown, everything is ready for display.

Alex Chadwick: It looks like Erica feels this interview is over.

Jean Raymann: Yes


---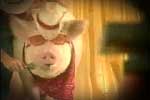 Alex Chadwick: At the state fair, they give blue ribbons for the best produce and the finest animals. Why aren't there prizes for what people have to say?


---

Jay Bramwell: You know, I'm nervous. I'll be honest with you, it's the most -- it's the scariest thing I've ever done in my life, it really is.

Alex Chadwick : retiring?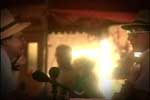 Jay Bramwell : Yep. I was thinking, too, a friend of mine, he taught me this. He said, you know, his wife, he looks out in the morning at breakfast, and he says, you know, "Why don't we go make out or something?" And she says, "I've got a headache" and he says "That's all right, I've got time, I'll wait." So, he just sits there across the table and stares at her until she gives in. I can't wait to try it. I'm just dying -- in fact, I'll do it the next morning. If I retire the 23rd, you know what I'm going to be doing on the 24th. I'll either be doing it, or I'll be waiting. So, I'm just gonna tell her, say, "I've got time until your headache's gone or when you feel comfortable."