Don Johnson

(first interview subject)

: Have you noticed something about people?

Alex Chadwick: What's that?

Don Johnson: If you talk to people long enough, they tell you everything about themselves. A lot of them do. I mean, I was at a bar last night, and I was talking to this lady, and when I left, I was crying. She told me her whole life story in five minutes. I mean I was really crying.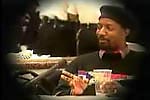 Alex Chadwick: And it was a story that made you weep?

Don Johnson: Yeah

Alex Chadwick: Why?

Don Johnson: It was just that sad. Now, she was in love. Her husband wasn't in love. He was running around on her, right. You know? He was spending her money. And she was pouring out all this love for him. It's a shame. It just made me cry. She was so beautiful, you know. And I said, why couldn't I have somebody like that so I could take her money -- that's what I was crying about. (Laughing) I wanted her money, not him.

Alex Chadwick: I'm not even sure anymore where the idea came from -- probably from listening to so many stories. There are more people than you might think who almost forget whole years of their lives, and still there are moments they can get back second-by-second. Or maybe it's that they've got something worth passing on, and the time and the chance to do it never connect. I don't know. But that's really where the idea came from, this notion that there are so many people with stories and willing to tell them if you ask.


---

Robert Plant

(voiceover)

: As Andy Warhol said before he died, everyone should have at least 15 minutes in their life when they're at the top. This is my 15 minutes. (Music.)