Interview with Paul Waldman




What inspired you to start the LAMPP project?


I wanted to show these artists were more than their images. The public is too isolated from the photographer. The average person might recognize an image but has no idea who made it. Even in the photographic community relatively known artists are often unknown to their peers. I would walk into some of the biggest labs in New York and people behind the counter wouldn't know the work of the famous photographers whose film had been brought to be processed and printed. I thought this quite ironic.

Photographers are an incredible human resource. I had immersed myself in the work of contemporary American photographers and found myself looking at what might be considered a collective perspective, an American point of view. For me this had a kind of social hum, with a distinctly American quality. I simply got caught up "listening". As the project progressed, I became more enamored. I was meeting the on-the-spot-historians of the 20th Century.


Who was the most interesting subject you've photographed so far?
Of the men in the project I can say without hesitation that two of my favorite encounters were with Andreas Feininger and Allen Dutton. Andreas was a man with an elegance rare to any age. He had the patience to see, an unparalleled grace, and a will to translate, from his mind, to those he taught through his many books. Allen on the other hand would have been quite jovial with Chaucer or meditative with Sufi mystics. As we drove through the back roads of Arizona, Allen chimed with passages of poetry by Tennyson and Shakespeare. He can see life inside and out, literally. His intellect is massive.

Of the women in the LAMPP, the choice is far more difficult. I wish I had had the opportunity to travel on location with Mary Ellen Mark, work in the darkroom with Ruth Bernhard, or develop a deeper friendship with Inge Morath. There aren't words to express my life in their presence. Experience is entirely in the moment. And in these moments as with all LAMPP moments, I've been blessed.




Who was the biggest surprise to you when you met them in person?


Irving Penn. He is one of my all time favorite photographers. When we met for the first time, I was literally speechless. I don't know why. It was embarrassing. Fortunately I had the good luck to meet with Mr. Penn again but all I could do was apologize for being speechless the first time! If I have a third opportunity to speak with him, I'd like to ask him to consider becoming part of the project.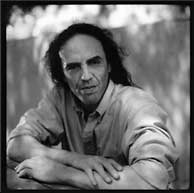 Paul Waldman
©David LeRoy Hunsaker