Interview with Paul Waldman

(Continued from page one)




What kind of people are these photographers? Is there some quality or characteristic that binds them together?


They are individuals as we all are. Some are cautious, some passionately intense, others whose social awareness is consuming. Each is visually powerful. They have a charge and energy that defies explanation. All of them catch time. They share the power of conscience and the beauty of childlike vision. It is remarkable.


Do you get a sense for why these photographers love photography?
The LAMPP participants range from commercial photographers to cultural image trendsetters. These women and men are bound only by the obligation of personal vision and an obsession to see. The project encourages people to go to the source for answers; to ask the photographers themselves why they love photography. The LAMPP promotes society to engage these artists. It's a unique opportunity. Participants have considerable cultural and social insights. The more we see this as an historic opportunity, the more we respond to the tenet of the "Living" in Living American Master Photographers Project. The purpose of the LAMPP is to direct public awareness to the lives of these individuals.




Are the photographers as interesting or as intense as their photographs?


There are those photographers whose intensity is immeasurable, not in an uncomfortable way, but in a way that, while with them, time seems to move more quickly, finding yourself at your end before you've felt the beginning. Only after a time as these, does the memory catch, the experiences seem whole, and the moments make sense. The eyes of art photographers are celestial, searching. Photojournalists tend to have cautious, penetrating eyes. It can be like looking into the soul of an eagle incarnated as a human being. Each participant in the LAMPP reflects, in sometimes vastly divergent ways, the nature of her/his vision.




How long were your shoots? Did the subjects give you much time?


LAMPP shoots can last as long as an entire day or as short as 15 minutes. This largely depends on the individual participant. My preference is to have as much time as possible. I like to discuss the process of capture or exchange of one's personal image. Many times it depends on how well I can fit in their busy schedules. I've got it down pretty good and can work under the tightest time limits. These photographers command substantial pay. I take the amount of time given me, divide that into their day rate, and consider resulting opportunity a small working grant.




Was it hard to set up the shoots with these famous photographers? How long would it usually take to set up a meeting and shooting?


The time it takes to set up a shoot depends solely on the individual photographer. They live very active lives. Their private time tends to be that, private. A portrait is a kind of personal excavation. Not everyone is immediately open to the idea. Patience has a distinct role; Persistence, equal to that of patience. Many times establishing these relationships predate the actual participation of a LAMPP subject. Sometimes this takes place over the course of several years.

These opportunities depend on my ability to stay organized. I rely heavily on my Apple G4 computer to keep track of assets, media, releases, press, bios, etc. The project would be impossible to set up or manage without an easy way to keep things together, not to mention inspired.




Do you find the photographers as comfortable in front of the lens while you're shooting as they obviously are behind the lens shooting their own photographs?


Jack Mitchell, a LAMPP participant, said "photographing another photographer is always a tension convention." When a photographer wants to be there, if they want to do it, then it is an easy and rewarding communion. For example, with Lois Greenfield, we talked, she shared her thoughts about the portrait, maybe it isn't in the photos so much as it is in the memory and the enjoyment. Or with Allen Dutton. He said "Do you want to take it here or on the road?" I chose the road. I hope my work is a reflection of the respect that mutually develops between the participants and myself. I think the beauty of the shot is ultimately measured by this respect.

Personally, I dive from cameras. I am incredibly uncomfortable in front of them. When I allow myself to be photographed it's very personal. My image is intimately mine. It's that way even though others might think it trivial. Not everyone looks at it in this way. Mine is an emotional reflection. I treat other's images the way I would my own.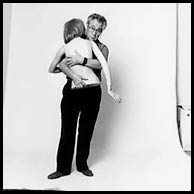 Elliot Erwitt , 1992
©Paul Waldman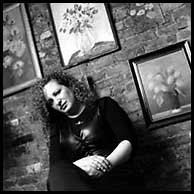 Nan Goldin , 1994
©Paul Waldman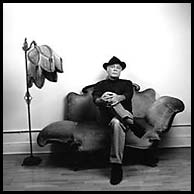 Eddie Adams , 1993
©Paul Waldman