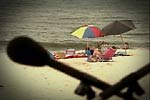 Alex Chadwick: Sir. We're collecting stories here. Interviews, 50 cents.

Delores Williams: 50 cents. I want 50 bucks. Can I get 50 bucks for an interview?

Alex Chadwick: An awful lot of the most interesting stuff right here doesn't make it into broadcast because it's not about the news.


---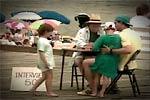 Alex Chadwick: Hi.

Boy: Hi..

Michael Floyd: Every day you get up and you see these guys - it's like Christmas. Isn't that right, Tom?


---

Alex Chadwick

(voiceover)

: People are just telling stories, or they're talking about whatever really matters to them.