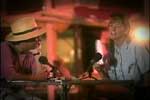 Rena Kirk: I'll talk about my motorcycle. I've got a 1948 Indian Chief.

Alex Chadwick: You do? You got one?

Rena Kirk: Yeah, I did. I was Miss Daytona Biker Lifestyle one year. I don't know when that was -- about in '87 or '88.

Alex Chadwick: Miss Daytona Biker Lifestyle?

Rena Kirk: Oh, no, I don't know what it was. Miss Biker Lifestyle, I guess it was. Will you cut, cut, cut this out, cut it out --. But then since then I've kind of parked my Indian away after a few years there. And I ride my horses now. And I kinda got off the highways and on to the trails and kind of toned down my life a little bit. I finally turned to a spiritual awakening, I suppose, and found more contentment for other things in life.

Alex Chadwick: You mean religion?

Rena Kirk: Yes.